Ecodis building is located inside the Qualiparc-labelled « parc d'activités de Kerboulard » in Saint-Nolff, commune of the Morbihan Gulf Regional Park.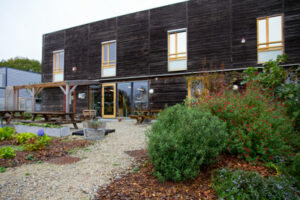 Located on a green and tree-filled area, the warehouse has been designed and built with natural and local materials to reach a good ecological balance:
– wood frame and wood siding made of breton douglas pine.
– breton cellulose wadding for insulation.
– double-glazed windows made of douglas pine and manufactured in Brittany.
– central heating system working with local wood chips.
– rainwater is collected to supply water for toilets, garden, workshop…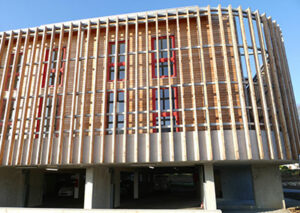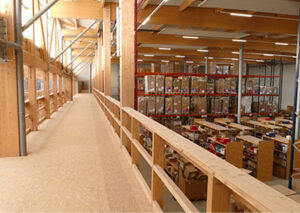 An expansion in progress!
Work have begub in spring 2019 to increase the size of the office building as well as the warehouse. They will be spread over 12 to 18 months to allow a better service to customers. The new office building will be passive to limit energy consumption as much as possible.

To maintain the site and a pleasant framework, we have introduced:
– a vegetable garden for the employees.
– a tree-planting project with local varieties (apple trees, oaks…).