15/11/2016  |   Gel vinegar from La droguerie écopratique® !
---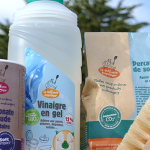 The only one on the market made of organic cereals. !
It has exactly the same usages as white vinegar: cleaning and scaling of washbasins, taps, shower screens, toilets…
With 12% of acidity, gel vinegar of La droguerie écopratique® is concentrated and efficient.
– Its innovative gel texture allows a better surfaces grip and a longer contact time, more efficient!
– Gel texture enables to use less product to clean surfaces, more economic!
– Its flexible spout allows to reach tricky corners and to target vinegar application, more precise and more reliable!
Household with natural products is becoming easier with gel vinegar!
27/07/2016  |   Zébio® c'est rigolo! kingdom of the ecofriendly and creative kids!
---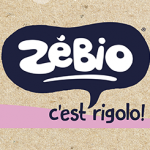 To leave room to imagination with simple, creative, ecofriendly and manufactured in France toys, here is the credo of the brand new Zebio® range. Soap bubbles with Organic soap and an eco-refill, vegetal play dough gluten-free and peanut-free or a self-hardening dough for endless and without cooking creations, Zebio® range has numerous assets to charm ecofriendly kids…and their parents!.
17/05/2016  |   Discover the microfilament dedicated to screens!
---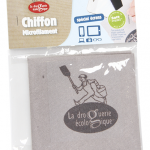 Coming from a specific technology, this cloth is made up of only one ultra-thin and nonwoven wire that makes it very efficient to absorb dust and erase fingerprints. It is particularly well adapted to clean the screens of smartphones, tablets, computers as well as glasses or cameras… It is made in France and has obtained the Öeko-tex 100 label that guarantees absence of toxic component for human and environment.
27/04/2016  |   La droguerie écologique is honoured by 60 millions!
---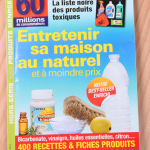 La droguerie écologique® is honoured by 60 millions. The april-may magazine compares a lot of products useful to naturally clean the house. Products of La droguerie écologique® are particularly well appreciated and noted for their qualities combining ecology and economy.
05/04/2016  |   The olive green soaps' family is expanding!
---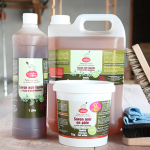 1L and 5L in liquid or 1kg in paste, these three products will satisfy everyone to clean the house, the garden, the garage…and much more! Certified Ecodetergent based on organic ingredients, these green soaps are excusively made of organic vegetal oils with an artisanal process.
03/02/2016  |   New : Finally real ecological capsules !
---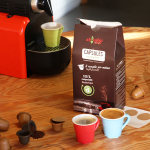 Compostables and made of bioplastic, the branded Ah! Table! capsules are refillable by yourself, compatible with Nespresso*, economical and ecological. Sold by 100 pieces, they are adapted to a familial consumption and everybody can choose its organic coffee! Ecological, they are producing no waste after use and are even improving your compost in some months. Here is a nice alternative to capsules made of petroleum plastic and aluminium !