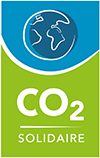 To decrease CO2 emissions due to human activities is a vital challenge for humanity. We have decided to do our best within our capacity.
Every year, we do calculate the CO2 emissions due to Ecodis activity and compensate them totally to reach "Zero CO2" or "carbon neutrality" level.
Climate solidarity
Click on the picture :


3 steps are needed for a coherent approach:
To produce an annual report of CO2 emissions by taking into account the company's activity, the building, the wastes or employees' travels. In 2016 Ecodis has produced 514 tons of CO2.
To build up an actions plan to reduce these CO2 emissions throughout the year: awareness of waste-sorting, of energy consumption…
To totally compensate the residual CO2 We have decided to fund projects of climatic solidarity in countries of the South with GERES. In 2017 our funding enabled to plant 3596 trees with Reforest'action and to spread improved cookstoves in China.

Cookstoves in chinese villages
In reference to this project, you can find the indication "Ecodis is compensating 100% of its CO2 emissions." on our products.